Overview
Plantar fasciitis is the most common cause of heel pain. The plantar fascia is the flat band of tissue (ligament) that connects your heel bone to your toes. It supports the arch of your foot. If you strain your plantar fascia, it gets weak, swollen, and irritated (inflamed). Then your heel or the bottom of your foot hurts when you stand or walk. Plantar fasciitis is common in middle-aged people. It also occurs in younger people who are on their feet a lot, like athletes or soldiers. It can happen in one foot or both feet.
Causes
Plantar fasciitis is caused by small, repetitive trauma to the plantar fascia. This trauma can be due to activity that puts extra stress on the foot. Plantar fasciitis is most common in people who are 40-60 years old. Other risk factors that increase your chance of getting plantar fasciitis include physical exertion, especially in sports such as running, Volleyball, tennis, a sudden increase in exercise intensity or duration, physical activity that stresses the plantar fascia. People who spend a lot of time standing, a sudden increase in activities that affect the feet, obesity or weight gain, pre-existing foot problems, including an abnormally tight Achilles tendon, flat feet, or an ankle that rolls inward too much. Poor footwear. Heel spurs.
Symptoms
People with this condition sometimes describe the feeling as a hot, sharp sensation in the heel. You usually notice the pain first thing in the morning when you stand. After walking for a period of time, the pain usually lessens or even disappears. However, sharp pain in the center of the heel may return after resting for a period of time and then resuming activity.
Diagnosis
Plantar fasciitis is usually diagnosed by a health care provider after consideration of a person's presenting history, risk factors, and clinical examination. Tenderness to palpation along the inner aspect of the heel bone on the sole of the foot may be elicited during the physical examination. The foot may have limited dorsiflexion due to tightness of the calf muscles or the Achilles tendon. Dorsiflexion of the foot may elicit the pain due to stretching of the plantar fascia with this motion. Diagnostic imaging studies are not usually needed to diagnose plantar fasciitis. However, in certain cases a physician may decide imaging studies (such as X-rays, diagnostic ultrasound or MRI) are warranted to rule out other serious causes of foot pain. Bilateral heel pain or heel pain in the context of a systemic illness may indicate a need for a more in-depth diagnostic investigation. Lateral view x-rays of the ankle are the recommended first-line imaging modality to assess for other causes of heel pain such as stress fractures or bone spur development. Plantar fascia aponeurosis thickening at the heel greater than 5 millimeters as demonstrated by ultrasound is consistent with a diagnosis of plantar fasciitis. An incidental finding associated with this condition is a heel spur, a small bony calcification on the calcaneus (heel bone), which can be found in up to 50% of those with plantar fasciitis. In such cases, it is the underlying plantar fasciitis that produces the heel pain, and not the spur itself. The condition is responsible for the creation of the spur though the clinical significance of heel spurs in plantar fasciitis remains unclear.
Non Surgical Treatment
About 90% of plantar fasciitis cases are self-limited and will improve within six months with conservative treatment and within a year regardless of treatment. Many treatments have been proposed for the treatment of plantar fasciitis. First-line conservative approaches include rest, heat, ice, calf-strengthening exercises, techniques to stretch the calf muscles, achilles tendon, and plantar fascia, weight reduction in the overweight or obese, and nonsteroidal anti-inflammatory drugs (NSAIDs) such as aspirin or ibuprofen. NSAIDs are commonly used to treat plantar fasciitis, but fail to resolve the pain in 20% of people. Extracorporeal shockwave therapy (ESWT) is an effective treatment modality for plantar fasciitis pain unresponsive to conservative nonsurgical measures for at least three months. Corticosteroid injections are sometimes used for cases of plantar fasciitis refractory to more conservative measures. The injections may be an effective modality for short-term pain relief up to one month, but studies failed to show effective pain relief after three months. Notable risks of corticosteroid injections for plantar fasciitis include plantar fascia rupture, skin infection, nerve or muscle injury, or atrophy of the plantar fat pad. Custom orthotic devices have been demonstrated as an effective method to reduce plantar fasciitis pain for up to 12 weeks. Night splints for 1-3 months are used to relieve plantar fasciitis pain that has persisted for six months. The night splints are designed to position and maintain the ankle in a neutral position thereby passively stretching the calf and plantar fascia overnight during sleep. Other treatment approaches may include supportive footwear, arch taping, and physical therapy.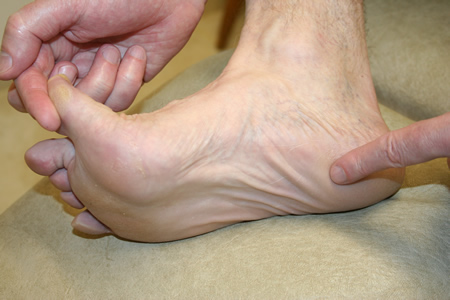 Surgical Treatment
Plantar fasciotomy is often considered after conservative treatment has failed to resolve the issue after six months and is viewed as a last resort. Minimally invasive and endoscopic approaches to plantar fasciotomy exist but require a specialist who is familiar with certain equipment. Heel spur removal during plantar fasciotomy has not been found to improve the surgical outcome. Plantar heel pain may occur for multiple reasons and release of the lateral plantar nerve branch may be performed alongside the plantar fasciotomy in select cases. Possible complications of plantar fasciotomy include nerve injury, instability of the medial longitudinal arch of the foot, fracture of the calcaneus, prolonged recovery time, infection, rupture of the plantar fascia, and failure to improve the pain. Coblation (TOPAZ) surgery has recently been proposed as alternative surgical approaches for the treatment of recalcitrant plantar fasciitis.