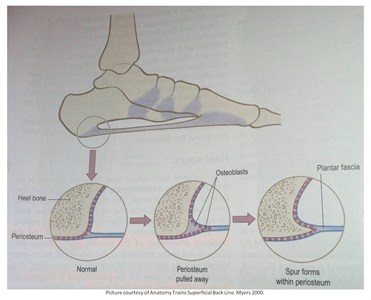 Overview
A calcaneal spur (or heel spur) is a small osteophyte (bone spur) located on the calcaneus (heel bone). Calcaneal spurs are typically detected by a radiological examination (X-ray). When a foot bone is exposed to constant stress, calcium deposits build up on the bottom of the heel bone. Generally, this has no effect on a person's daily life. However, repeated damage can cause these deposits to pile up on each other,causing a spur-shaped deformity, called a calcaneal (or heel) spur. Obese people, flatfooted people, and women who constantly wear high-heeled shoes are most susceptible to heel spurs. An inferior calcaneal spur is located on the inferior aspect of the calcaneus and is typically a response to plantar fasciitis over a period, but may also be associated with ankylosing spondylitis (typically in children). A posterior calcaneal spur develops on the back of the heel at the insertion of the Achilles tendon. An inferior calcaneal spur consists of a calcification of the calcaneus, which lies superior to the plantar fascia at the insertion of the plantar fascia. A posterior calcaneal spur is often large and palpable through the skin and may need to be removed as part of the treatment of insertional Achilles tendonitis. These are also generally visible to the naked eye.
Causes
Heel spurs occur when calcium deposits build up on the underside of the heel bone, a process that usually occurs over a period of many months. Heel spurs are often caused by strains on foot muscles and ligaments, stretching of the plantar fascia, and repeated tearing of the membrane that covers the heel bone. Heel spurs are especially common among athletes whose activities include large amounts of running and jumping. Risk factors for heel spurs include walking gait abnormalities,which place excessive stress on the heel bone, ligaments, and nerves near the heel. Running or jogging, especially on hard surfaces. Poorly fitted or badly worn shoes, especially those lacking appropriate arch support. Excess weight and obesity. Other risk factors associated with plantar fasciitis include increasing age, which decreases plantar fascia flexibility and thins the heel's protective fat pad. Diabetes. Spending most of the day on one's feet. Frequent short bursts of physical activity. Having either flat feet or high arches.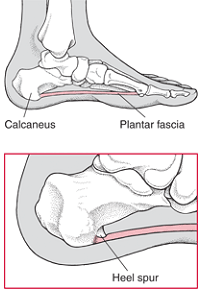 Symptoms
Heel spurs are most noticeable in the morning when stepping out of bed. It can be described as sharp isolated pain directly below the heel. If left untreated heel spurs can grow and become problematic long-term.
Diagnosis
Sharp pain localized to the heel may be all a doctor needs to understand in order to diagnose the presence of heel spurs. However, you may also be sent to a radiologist for X-rays to confirm the presence of heel spurs.
Non Surgical Treatment
There are many temporary solutions to resolve the pain associated with irritation to the plantar ligaments. Common recommendations are ice and anti-inflammatory medications or even cortisone injections, however none of these solve the fundamental problem. To permanently resolve heel spurs you need to support and restrict the movement of the plantar ligaments. Flexible shoes will aggravate and often contribute to heel spurs. We recommend a RIGID orthotic that extends from the metatarsal heads to the heel to resolve heel spurs.
Surgical Treatment
Most studies indicate that 95% of those afflicted with heel spurs are able to relieve their heel pain with nonsurgical treatments. If you are one of the few people whose symptoms don?t improve with other treatments, your doctor may recommend plantar fascia release surgery. Plantar fascia release involves cutting part of the plantar fascia ligament in order to release the tension and relieve the inflammation of the ligament. Sometimes the bone spur is also removed, if there is a large spur (remember that the bone spur is rarely a cause of pain. Overall, the success rate of surgical release is 70 to 90 percent in patients with heel spurs. One should always be sure to understand all the risks associated with any surgery they are considering.